The Car Years: Episode Three and Four Preview
Exclusively on footmanjames.co.uk we're previewing tonight's episodes of the brand-new show, The Car Years, on ITV4 at 8pm and 8.30pm BST. Presented by Vicki Butler-Henderson and Alex Riley, The Car Years is a fresh take on a classic car TV programme, airing every Tuesday on ITV4.
If you liked last week's episodes, we think you might enjoy tonight's double-bill featuring some of the most celebrated, iconic and revered roadsters of the Fifties, as well as being joined by the former Top Gear Stig driver, Ben Collins, to discuss Eighties performance cars at Beaulieu's National Motor Museum.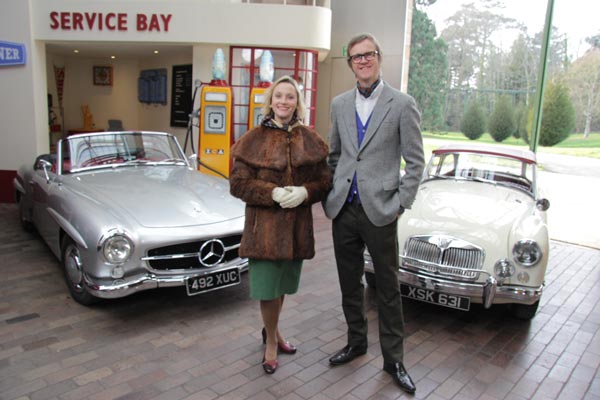 Episode 3, airing at 8pm on ITV4 tonight, will have the usual mix of celebrity judges, sources of history and automotive facts, as well as jaw-dropping roadsters from 1955. Both presenters have the task to argue their vote for the best convertible made that year, with Alex making the case for the British MGA sports car. Driven by famous faces such as Elvis Presley, over 100,000 MGAs were made for the global market from 1955 to 1962.
Vicki's unconvinced and chose to wow the judges with an immaculate Mercedes-Benz 190 SL. With its Hollywood glamour and sleeker lines, it was designed to be a more affordable and accessible version to the 300 SL. It shares the basic styling, engineering, detailing and pioneering suspension with the Mercedes-Benz 300 SL 'Gullwing' with a smaller engine and a fabric roaster roof. In this episode, the judging team comprises broadcaster Quentin Willson, motoring author and vlogger Richard Porter, plus world-renowned motoring auctioneer Chris Routledge.
Don't forget that the second-half of the double-bill will air at 8.30pm BST on ITV4 immediately afterwards. Episode 4 will see the presenting duo cast their minds back to the 1980s, a decade for performance, wide arches (and even wider shoulder pads) and excess, to crown a model that stands out as the best performance car released in 1980.
Of course, the cutting-edge four-wheel-drive rallying Audi Quattro features and is Vicki Butler-Henderson's choice. Taking advantage of the new regulations that allowed four-wheel-drive technology in rallying, the Quattro's engineering is still found in the latest-generation of Audi road cars. Alex Riley, meanwhile, finds an excuse to get behind the wheel of the Renault 5 Turbo, one of his childhood dream cars. Much like the Audi, the Renault 5 Turbo was a homologation special built for rallying, but had lower build numbers and a shorter production run.
Ultimately, the decision comes down to the expert judging panel. It's up to the ex-Top Gear 'tame racing driver', Ben Collins as well as former F1 driver and broadcaster Tiff Needell and Richard Porter, to choose the winner.
Sponsored by Footman James, there will be two more episodes of The Car Years, with the season finale double-bills airing next Tuesday 21st May from 8pm on ITV4. Tune in to the Footman James blog for your exclusive series preview next week.
You can watch episode three and four of The Car Years on ITV4 tonight on Freeview (24), Sky (120) and Virgin Media (118) from 8pm BST.
Who's your money on? Would you rather have MG's best or Mercedes-Benz's luxury? What about Audi's pioneering four-wheel-drive rallying hero over Renault's turbo terrific? Let us know your top tips in the comments section below, or vote in our polls on our social media pages.