30 April, 2015
Wherever you go in your classic car, opinion seems divided. What's more important? Arriving at your destination, or the journey getting there?
And so it is with your choice when buying your vintage model... do you purchase a fully restored car or embark on a restoration project?
Whichever route you take, there are pros and cons for both. We take a look:
The pros of restoring a classic car
- Job satisfaction: Restoring a car is like writing an autobiography. It might be far easier (if expensive) to get someone to do it for you. But it'll be much more rewarding to do it yourself. Be persistent and make sure you know what you're doing. If in doubt, get the professionals in. They give you peace of mind with years of experience under their belt.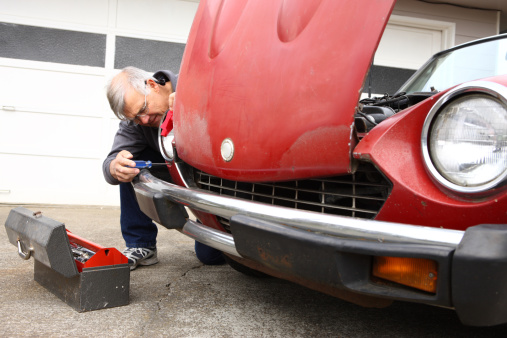 - No hidden surprises: What you see is what you get - a big advantage. Barn finds sitting rusting away gathering cobwebs often come as they were found, however gruesome.
- Flexibility: No matter how impatient you are, your restoration can be incremental, whether body panel aligning, suspension work, trim work or painting.
- Customisation: Whether using pro restorers or choosing the DIY route, it is becoming increasingly popular to customise your car restoration project. This has meant switching US vehicles from left to right-hand drives, re-sprays and installed immobilisers.
- The support network available to help you is more extensive than ever before, reflecting the pastime's burgeoning popularity, including owner clubs, trade fairs and autojumble sales.
- DIY restoration courses: Leeds City and Bolton colleges are among those providing year-long courses which equip enthusiasts with the skills needed to complete a classic car restoration job.
- Getting the parts: Growing amounts of autojumble sales provide parts aplenty, even those really rare ones, to complete the jigsaw of your project.
The cons of restoring a classic car
- Expense: Most restoration jobs will probably cost more than the car's final value. So commit yourself a strict budget above which you will not go. More sensible would-be restorers compile basic inventories of standard elements involved, such as engine work, paintwork, and mouldings. If you choose some rust bucket that's really falling apart at the joins then you could find yourself and your wallet being sucked into a financial black hole of repair bills and restoration fees.
- Cost of parts: Still on this theme, classic parts are likely to be more expensive than those for modern, mass-produced motors. Perhaps the best way to look at it is that it's a hobby at the end of the day. So weigh up how much you would spend on an alternative pastime, such as a year's golf club membership or 12 months' worth of salsa dance classes.
- The time factor: Commit to plenty of time, as such projects can sometimes feel like painting the Forth Bridge.
The pros of buying a fully restored classic car
- Immediate gratification: Your model is ready to go. This easier option means that your ambition shouldn't outstrip your wallet, which can sometimes happen with restoration projects. 
- Smaller long-term budgets required: Hopefully your main outlay will be at the beginning with the purchase of the car.
- Profit: If you undertake the usual checks as you would on a "normal" car (tyres, oil, water) then this "painless" route into classic ownership is more likely to leave you with a tidy profit at the end of it. Some at the higher end have seen profits in excess of 500% over the past decade, according to the Wheeler Dealers TV show.
- Professional restorers: Few industries have a bigger "labour-of-love" factor. This means you can be virtually guaranteed that hours of care, craftsmanship and professional pride will go into your job.
Wherever you live in the UK, there should be restorers within reach. In the East, Norwich-based Classic Car restorations' specialisms include MGBs, Spitfires, Cortinas, Escorts and Minis. In the Midlands, Severn Classics can do up anything from Aston Martins to Midgets, from Sprites to Jaguars. In the South, Rees Brothers Classic and Vintage Restoration over 94 years of experience and major in sports models from the 1960s and 1970s, such as MGs and Austin Healeys. In Wales, Redcastle Classics' family business numbers Ferraris and Porsches among their CV of lovingly restored classics.
The cons of buying a fully restored classic car
- Less job satisfaction: But then you might not have the time to offer such commitment to a restoration project.
- Bodge jobs: The previous restoration may have been bodged and masked by fresh paint and wrong parts put in wrong places. Such unseen shortcuts may be expensive to replace. Insist on a service history and try and evaluate the vendor
Conclusion
Like most of life's eternal questions there are no definite answers. Both alternatives offer free vehicle tax on "historic" models before 1974.
So do your homework, follow your gut instinct and take your pick and, whatever option you choose, enjoy.
If you're really undecided, then whatever alternative you decide upon this time, why not choose the other one next time?