Top 5 Family Friendly Classics
The conventional advice when scouring the classifieds for family-friendly transport is to head on over to the section titled MPVs. But to anyone with even the merest hint of Castrol's finest in their veins, those three letters are enough to fill the heart with dread and despair.
Thankfully, for the price of a lightly soiled Ford Galaxy, there are far more interesting options out there. We take a look at just a few.
Volvo 240 Estate
Looking for all the world like an escapee from Minecraft, the blocky Volvo 240 has earned a variety of reputations over the years. Revered for its safety when new (even the rear-facing seats had three-point belts), as the years wore on it began to be seen as a semi-ironic anti-hero, before finally achieving cult status. There are a number of reasons for that – it's practical in a way only a car this boxy can be, it's easy to work on, desperately dependable and, after a 20-year production run, there are a surprising number of original survivor cars still kicking around. For the ultimate in Scandi-cool hunt out a GLT model, with its blacked-out exterior trim and chunky Virgo alloy wheels.
Mercedes-Benz W124 Estate
For those with more Germanic leanings, Mercedes offered their own take on the jumpseat-equipped wagon. Unlike its predecessor, the estate (officially known as S124) was developed alongside the W124 saloon, and today is regarded as one of the last of the 'over-engineered' Mercedes. There are still problems, though. Rust has culled their numbers somewhat, and electrical gremlins are not unusual, but if the idea of piloting the Bundesbank appeals, it's worth picking one up now before the values climb too high.
Jeep Wagoneer
Long before the Range Rover began crunching up the gravel driveways of many stately homes, Jeep gave birth to what is arguably the first luxury 4x4. Launched in 1962 and despite being built on a chassis that had more in common with a truck, the Wagoneer offered six- and later eight-cylinder engines, independent suspension, air conditioning, and a sense of luxury its domestic competition could only dream of. In fact, so right-first-time was it that it remained in production with only minimal changes for 29 years. With a new Grand Wagoneer on the way, now is the time to grab a slab of ground-breaking Americana.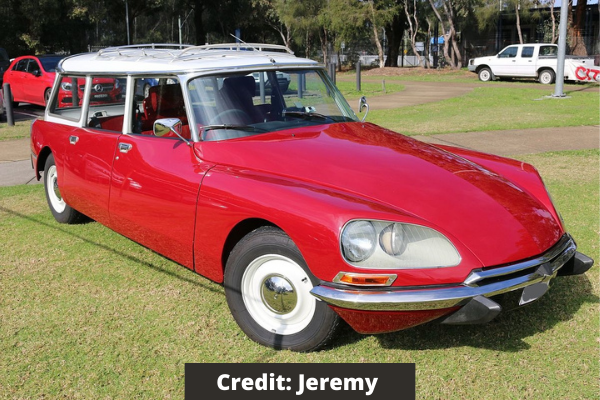 Citroen DS Safari
If the idea of something unusual appeals, there's nothing more left-field than a Citroen DS. Except perhaps the DS Safari, which takes the quirkiness factor and cranks it up to eleven. Its 1958 debut saw the rakish fibreglass roof replaced by an extended steel silhouette to accommodate a heavily-laden roof rack, plus a pair of fold-out seats in the boot.
Daimler DS420 Limousine
For something a little more regal, it would be hard to beat a Daimler Limo. The DS420 borrowed heavily from the Jaguar 420G, its coach-built body extended by 24 inches to maximise passenger space and comfort: three sat on a six-foot wide bench seat, while another three could perch on folding seats. All were separated from the driver by a sliding glass partition that offers a solution to noisy children. While today many have carved out a niche as the perfect wedding car, no other limousine has offered service to more reigning monarchs.
Can you think of any other interesting options for transporting a family of six? Let us know in the comments below.