14 July, 2016
So many miles of open road. So many classic car and bike attractions. So little time to visit them. But there are still nearly two full months of summer ahead of us. Plus there's always the possibility of a bright September perfect for driving.
So why not make the most of the longer, warmer days by following these ideas for an unbeatable road trip around some of the best classics attractions the country has to offer?
Hit the hill climb heights
Get July off to a cracking start by heading to Worcestershire for a revived event that is bathed in nostalgia.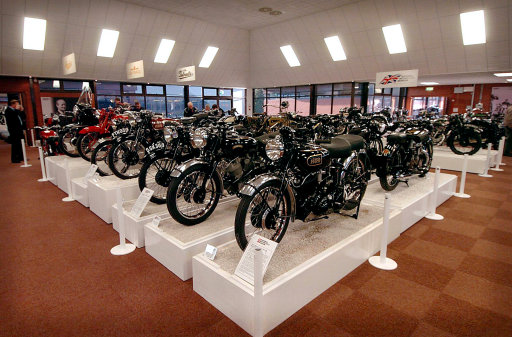 Droitwich Spa's Chateau Impney Hill Climb (Saturday July 9-Sunday July 10), held at Chateau Impney Hotel and Exhibition Centre, will see more than 200 contestants brave the challenging 914-metre course.
The Footman James-sponsored Concours d'elegance there will feature a 1929 three-seater Aston Martin International. Advanced adult day tickets range from £18-£22.50. 7.30am-6pm.
Motorcycle Museum Mayhem
If bikes are your bag, then plan a trip to the Solihull-based Footman James partner National Motorcycle Museum while you're in the West Midlands.
Nowhere else will you find a bigger array of UK motorbikes on the planet. Adult tickets cost £8.95. Opening hours: 8.30am-5.30pm.
Classics and Castles
Rolls-Royce fans will be in luck a bit later in July if they head for Sherborne Castle in New Road, Dorset, for Classics at the Castle (Sunday July 17).
Rolls is the featured marque in an event that will also be brimming with US cars, dragsters, supercars, veteran vehicles and performance cars. Advanced adult tickets are £12. Gates open at 10am.
Bowled over at Beaulieu
While you're in the South-West, why not extend your break with trips to two of the country's best classic attractions? Beautiful Beaulieu's National Motor Museum, with motors dating back to 1875, traces the journey of British motoring with the help of more than 250 vehicles. You can also explore World of Top Gear and see cars from the world of film and TV. Adult tickets are £24. Opening hours: 10am-6pm.
South-west to the Sammy Miller Motorcycle Museum
Still in the New Forest area, you could then make the 25-minute journey south-west to the Sammy Miller Motorcycle Museum. This is a motorcycle restorer's dream, with an almost unrivalled collection of fully restored bikes. Adult tickets cost £7.50. Opening hours: 10am-4pm. Both museums are partners of Footman James.
Silverstone Classic vs CarFest North
Classic buffs are spoilt for choice when it comes to three-day events from Friday July 29 to Sunday July 31. The Towcester-based Silverstone Classic in Northamptonshire coincides with CarFest North at Cheshire's Bolesworth Castle.
Competition cars and track days are to the fore at the former, with 1,000 competitors expected. Oh, and the Boomtown Rats will be performing live there too.
The Children In Need CarFest North charity event promises stunts, burn-outs and wheel spins, car clubs galore and your chance to ride in a Porsche, Lambo or Ferrari. Adult day tickets cost from £64-£69.
Moto magic
Next month promises to be no less exciting. Take the Moto Guzzi Festival (Friday August 19-Sunday August 21), for example. Held on Forest Oak Farm in the Gloucestershire town of Sydney, this is a celebration of everything Moto Guzzi, with Italian bikes galore.
131 years of classic gems
Head southwards and you'll find yourself at an exhibition of 400-plus bikes and cars at another Footman James partner, Haynes International Motor Museum. The oldest - would you believe it? - dates back 131 years. At the Sparkford, near Yeovil, attraction, you'll see 1950s and 1960s gems, Rolls-Royces, Bentleys and supercars. Adult tickets are £13.95. Opening hours: 9.30am-5.30pm.
Vintage fun at CarFest South
CarFest South (Friday August 26-Sunday August 28) comes to Overton's Laverstoke Park Farm in Hampshire the following weekend, and pledges to take you back in time to view some 1930s vintages. Squeeze are among the musical guests. You can get an adult ticket for £64.
Wave the flag for Jag
There's no let-up in the bank holiday action as XJ40 30th Anniversary Celebration (Monday August 29) drags you north of the border in the grounds of Perthshire's Hilton Dunked House.
You can join in the XJ40 Enthusiasts' Club's 30th birthday party for the XJ40. A rally, guest speakers and scrumptious food are all lined up.
What better way to end your classic driving summer as you head back into England than to sample North Yorkshire's Blakey Ridge? Ford named this as the only UK representative in its six best driving roads in Europe, with its tight corners and stunningly raw moorland backdrop.
If you can't manage all these, don't worry. There's always next summer…
We'd love to hear about your summer plans. Share with us some of your summer routes via Facebook and Twitter.