Track Day success at Thruxton
There's something electric about going to a track day. It's an opportunity to test the limits of a vehicle without having to worry about incurring the wrath of the locals or the authorities. After so long not being able to go to events due to COVID-19, it was apparent as vehicles started to arrive for our inaugural track day that we were in for a good one.
Hosted in partnership with The Intercooler and Goldtrack, with a limited number of tickets for FJ clients, attendees were able to join Ti co-founders Dan Prosser and Andrew Frankel, as well as contributors including former F1 driver Karun Chandhok, for their first in-person event.
The setting for this track day was of course Thruxton Race Circuit. The Hampshire Circuit is not only known as the fastest in Britain but is also one of the UK's most rewarding tracks. The day was run without the usual restrictive noise limits that bar so many vehicles from taking up it's unique challenge. As a result, a fantastic mix of vehicles were put through their paces around the circuit.
Ian Morris was the lucky Luxury London reader who won our competition to not only attend the event, but also enjoy a white-knuckle passenger ride with Karun Chandhok. A huge Formula 1 fan, Ian was delighted to have won, "The reason I entered the competition was to meet Karun and I couldn't believe it when I got the email to say that I had won. Going around the track with Karun was amazing. It felt like we were on a country drive, just chatting about Formula 1 and his writing, but all the while travelling at such speed. It was the fastest I have ever been on land. What an amazing experience and a fantastic day."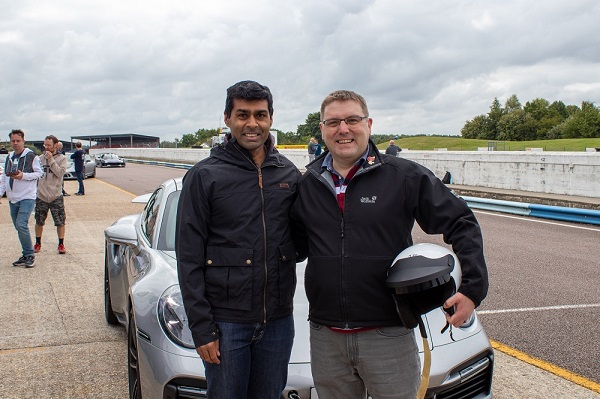 With the inaugural track day marked as a success, it's fair to say that another one could be on the cards in future. View some photos from the pits in our gallery.
Did you attend the track day at Thruxton? Let us know what you thought in the comments.