23 August, 2017


The TSO GT2 is Marcos Engineering Limited's first crack at a coupé, and when it showcased back in 2005 the doting crowds had no idea that the sleek, seductive and 60s supercar-esque model would become the swan song of the Marcus brand.

Although dubbed an "affordable" classic, at £50,000 you're not looking at pocket change to snap one up. However, you can witness a factory prototype at Motorsport at the Palace this bank holiday weekend, sponsored by Footman James.

Power of a race car
A 422bhp 5.7 litre Chevrolet LS6 V8 engine powers speeds that tickle close to 190mph, while tyre shredding acceleration and accurate handling make it a sublime car to take control of.

A six-speed Tremec gearbox and double wishbone suspension balance smooth acceleration with prodigious stability. This is not a flimsy automobile, and in the driving seat you can take on bends like an old school, silver-tongued racing champion of yesteryear.

The TSO was a huge improvement from earlier models such as the TS500, says former Marcos chief engineer Ben Thompson speaking to the website Drive.

"The great thing about the TSO was that even if you were an average driver, or even a rubbish one, it would make you look brilliant," Thompson remembers. "It was so controllable, even a novice could look like a hero in it."

The tweaked version of the TSO GT2 takes the feel of a British racing classic one step further, adding racing suspension, a rear diffuser and racing brakes to become the evolved TSO GTC.


60s supercar meets futuristic design
The car's components are CAD-designed, while its chassis engineering is the masterpiece of motorsport and advanced engineering group, Prodrive.

It is elegantly conservative and deliberately simple, yet there is still a pronounced overtone that fuses old school GT style with modern-day purpose.

Maverick designer Damián Mctaggart was lured to the firm by wealthy Silicon Valley whizz kid, the late Tony Stelliga – Marcos' Canadian owner. His aim was to revitalise the brand's quirky nature.

McTaggart says he's not keen on the side grills that give the GS2 its sci-fi edge. "I wish they were there for a reason, but they are purely aesthetic, which I'm really not keen on"

However, with its steel chassis and glass fibre body, the space-age elements are harmoniously offset against the GT2's vintage spec.

The demonstrator-built 2005 edition will be featuring on the Footman James stand at the Crystal Palace exhibition, on Sunday, August 27, and Monday August 28, 2017.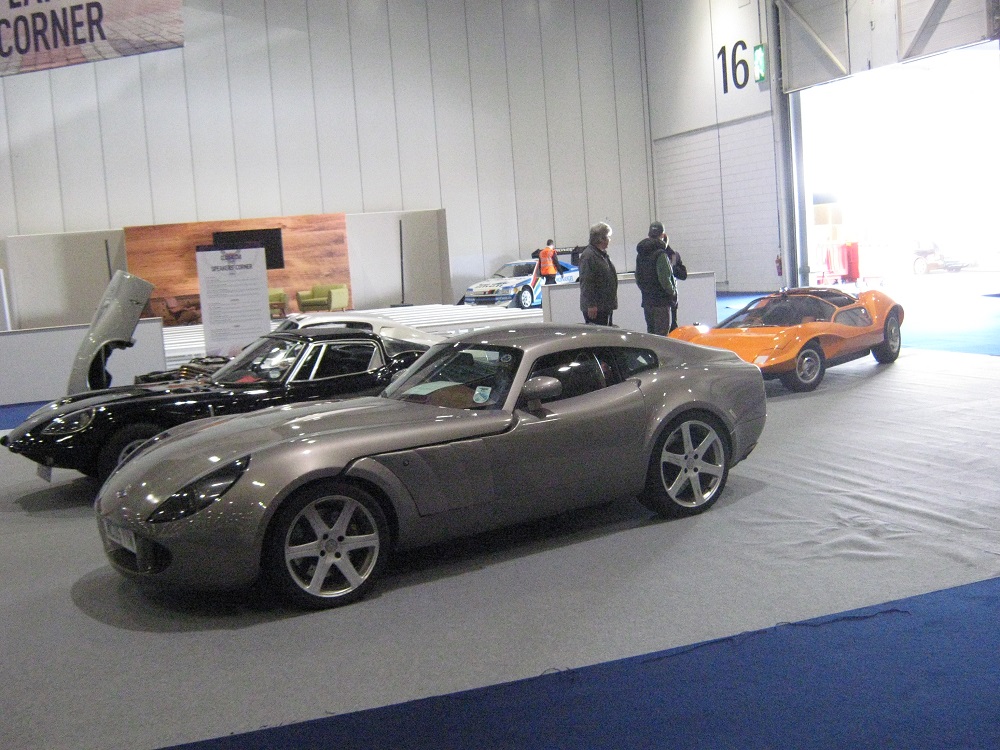 Marcos TSO GT2 specification:
Sold/number built: 2005-07/ eight (three coupes and five T-tops
Construction: steel chassis, glass fibre body
Engine: all-alloy, overhead-valve 5665cc V8 electronic multi-point fuel injection
Max Power: 422 bhp @ 5400rpm
Max Torque: 470lb ft @ 4200rpm
Transmission: six-speed manual, driving rear wheels
Suspension: independent all round, by double wishbones, coils, telescopics, anti-roll bars
Steering: power-assisted rack and pinion
Brakes: Ventilated discs
Length: 13ft 2in (4013mm)
Width: 5ft 6in
Height: 3ft 9in
Wheelbase: 7ft 6in
Weight: 2580lb
0-60: 4.3sces
Top Speed: 185 mph
Mpg: 15-25
Price New: £49,995
Price now: £50,000