30 June, 2015
A 92-year-old Silver Ghost has gone under the hammer for over £160,000.
The iconic Rolls-Royce classic fetched over a third more than its upper valuation of £120,000 at an auction in Lincolnshire last month.
What made the Ghost worth every penny of its final £161,280 price? For the lucky successful bidder it was its striking painted "wood effect" shooting brake coachwork.
This was taken from a motor - one of the pioneering "woodies" - that the then-Prince of Wales (Edward VIII - who briefly took the throne in 1936), once possessed.
The Burghley House-staged H&H Classics' auction was staged together with the Rolls-Royce Enthusiasts' Club Annual Concours & Rally. More than seven in 10 car lots found new owners.
Chateau Impney Hill Climb's revival will stage the next H&H Classics' sale next weekend (July 11).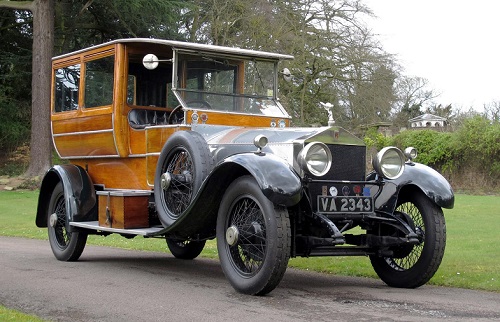 Few classic cars come as venerable and elegant as the Silver Ghost. It also has a past...
History
- 1923: Rolls-Royce cements its reputation for producing the world's best car with this beauty. It goes on to participate in several Ghost Club outings to Australasia, South Africa and Europe.
- Spring 2015: The UK press links the future Edward VIII with the Roller, speculating that he used it to secretly usher Mrs Simpson from Balmoral, taking advantage of the blackout silk blinds.
- Summer 2015: Its female vendor drives the Silver Ghost to the H&H Classics' auction, showing it is still in working order
So just how old is the Silver Ghost?
To put it into context, 1923 was also the year that saw:
- Wembley Stadium stage its first match. Bolton Wanderers beat West Ham 2-0 in the FA Cup final.
- Two UK Prime Ministers; Andrew Bonar Law, the only PM to be born outside the British Isles (Canada), and Stanley Baldwin.
- Howard Carter unseals Tutankhamun's burial chamber.
- Adolf Hitler attempts an unsuccessful coup to grasp power in Munich
Best of the rest
Other top buys at the H&H Classics' auction included:
- £154,560 - a rare Rolls-Royce Silver Cloud III Flying Spur (1964)
- £95,200 - the ex-Marquis de Portago Rolls-Royce 20/25 Sports Saloon (1931)
- £47,250 - Bentley T-Series Mulliner Park Ward ('MPW') convertible (1969)
In addition, a record-breaking £150,000 was grossed from almost 500 automobile lots.
A highlight for many was an Austin Pathfinder which fetched £4,928. The charming children's pedal car went for around a quarter above the upper estimate.