Vintage vehicles donated to West Midlands museum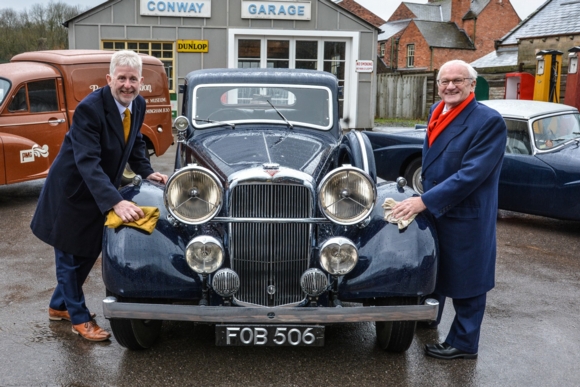 Five classic cars have been donated to The Black Country Living Museum, in response to its multi-million-pound fundraising campaign.
The Forging Ahead project will cost £21.7 million in total, and is a major historic 1940s-1960s development that will tell the story of the region, up until the 1968 closure of the Baggeridge Coal Mine.
The vintage vehicles have been donated by The Patrick Foundation, a charitable trust and owner of the Patrick Collection – an exquisite collection of highly sought-after classic and modern vehicles.
A strong connection
The automobilia donation includes classic vehicles such as; a Daimler SP250, a Daimler Majestic Major, a 1939 Alvis Speed 25, a Morris Minor Van and a 1933 Austin 10 Patrick Special.
Speaking to the Express & Star, Mr Alexander Patrick CBE, said: "Many years ago I was a trustee of the development trust here and we had been looking at ways that we could associate with the museum. Then the opportunity came for us to get involved with the new 1940s-1960s development. The cars are all family cars and my father used to drive the Daimler SP250 and the little Austin we put the body on back in the 1930s, so they're special."
The trustee regaled to the newspaper how his grandfather Albert M Patrick had started his career as assistant district manager at the Wolverhampton branch of Britannic Assurance, way back in 1898. This gives the family a strong "120-year connection with the region", says Mr Patrick.
See the full interview with Mr Alexander Patrick here
In addition to the five cars, the foundation is also donating £100,000, and a further £30,000 each year for a decade.
The donation brings the museum closer to its £1.9 million fundraising target.
Andrew Lovett, director of the museum, told the newspaper: "We are absolutely thrilled to receive such a generous donation from The Patrick Foundation towards our exciting project for the Museum, its visitors and the wider community. I personally can't wait to see the vintage vehicles help bring our new 1940s – 60s town to life."
The museum is to recognise the donation by naming a floor of the new visitor centre, The Patrick Gallery. The Junior Motor Mechanic will also be referred to as The Patrick Foundation Junior Motor Mechanic.