11 October, 2013
One of the most visually distinctive vans out there and synonymous with the 60's hippy movement, the much-loved VW campervan will reach the end of its road in December this year. Brazil is currently the only country in the world still producing the iconic workhorse, but will halt production ahead of new safety regulations.
From 2014 onwards, all vehicles produced in South America must have auto-lock braking and airbags, but VW have decided against bringing the camper van up to speed and are instead halting production entirely.
An iconic journey
The VW Campervan began its life known as the Type 2 in 1950, designed and manufactured by Volkswagen as a follow-up to their massively successful Beetle. The vans soon became popular in Britain and the US during the 60's and 70's, fast becoming linked with hippy and youth culture because of its affordability. It was notoriously temperamental and often prone to breakdowns, but this only reinforced its charm because the engine was simple to repair, giving people a greater sense of ownership.
VW have produced more than 10 million campers and it's now a firm part of popular culture, having been featured on album covers from the Beach Boys and Bob Dylan, as well as countless movies. It's also a notable workhorse, being used by governments in developing countries in many capacities, from buses and army transports through to postal deliveries and food carts.
The legacy is far from over
So what does all this mean for the VW Camper? All is far from lost, as a cease in production will solidify its cult status and establish its position as a classic vehicle. VW have a huge following, with a number of enthusiast clubs  and events taking place throughout the year, and we have no doubt that this is not the last we have heard from one of the most popular vans in history.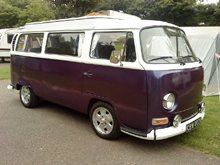 The VW Campervan is owned by
Footman James employee Lee fowkes