05 January, 2015
The Ferrari 250 GT Spider regularly crops up among lists of the best ever cars but what is it that makes it so special?
As a rare model prepares to go under the hammer for more than £6 million we take a look.
The Ferrari Spider - a £6.4m motor?
A 1959-built Ferrari 250 GT LWB California Spider supercar is due to come up for auction in the US later this month. Estimates suggest it will go for as much as £6.4m.
For the last 45 years this Jack Castor car has been in the sole ownership of a caring keeper who has kept it in mint condition. The eclectic iconic Castor collection is packed with beautiful old models covered by classic car insurance.
Earlier this year a model made a year earlier fetched 8.8 million dollars (£5.6 million), so expectations are high.
Celebrity owners
The Ferrari 250 GT Spider has been the supercar of choice for celebrities, petrolheads and wealthy playboys alike. Here we look at 2 famous owners:
Chris Evans became the proud owner of a Ferrari 250 GT California Spider in 2008, paying a then-world-record-estimated £5.6 million for the privilege. The DJ and Ferrari connoisseur - he owned 10 at one time in 2010 - sold it to realise his ambition to own another daddy among Ferraris: the 250 GTO.
James Coburn originally owned Evans' supercar. He imported it then re-painted it several different colours, including silver, black and reportedly burgundy. The late Great Escape and Magnificent Seven tough-guy actor loved his old, fast cars, especially Ferraris. His stable also included a Daytona, 412P and a 308. It was in the blood. His father owned a garage business.
What do the experts make of the Spider?
- Top Gear calls it the most easily-recognised Ferrari on the planet and possibly among the Maranello stable's most attractive designs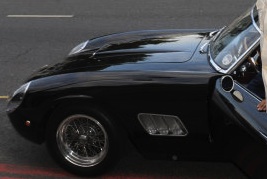 - autoblog calls it "eminently desirable"
- Chris Evans said the time he bought his was a "day to remember"
What makes this Spider worth £6.4m?
- jaw-dropping Scaglietti bodywork that is positively dripping in luxury
- about 220bhp from its 3.0-litre V12 engine
- a slick manual gearbox with four speeds which spreads the oomph to the supercar's rear wheels
- its exclusivity: it is one of just 50-ish LWB Spiders to be made
When can you bid for this beauty?
From January 16 to 17 at Gooding's Scottsdale auction at Scottsdale Fashion Square, Scottsdale, Arizona, held from 11am each day.
Other delights under the hammer include a stunning 959 Sport from Porsche (1988) and a Ferrari 641/2 (1990). For details visit http://www.goodingco.com/vehicles/.