Will You Join The Kidney Fundraising Convoy?
 Can there be a better month than August to get out your classic bike and enjoy the Great British summertime's exhilarating open roads?
Well now you'll need even less incentive to don your leathers, helmet and gloves – you can help raise money for charity at the same time.
A kidney failure patient is calling on fellow bikers to join him on a charity convoy through Dorset to help the hospital that's been treating him.
Spencer Furley, from Northbourne in Dorset, is inviting you to take part in a 1,000-strong bike parade in aid of nearby Royal Bournemouth Hospital, part of the Dorset County Hospital Charitable Trust.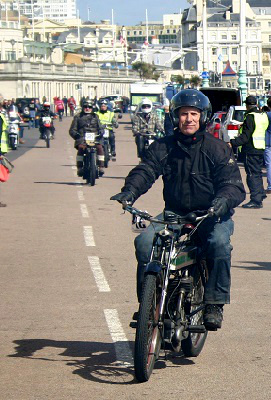 Its renal unit has helped 39-year-old Spencer in his long fight against chronic kidney pain.
Whether your machine is a classic and requires classic motorbike insurance or you ride something more modern, Spencer would love to hear from you.
Where and when?
The convoy is due to head off from Queen Elizabeth School, Blandford Road, Wimborne Minster BH21 4DT, at 1pm on Sunday, August 30.

Participants are asked to arrive an hour early. The convoy will ride through the picturesque county of Dorset en route to the no-less beautiful Somerset, where Henstridge Airfield is the destination.
How do I get involved?
It costs just £5 to do your bit and join the convoy. Hundreds of bikers have already done so, but at the moment there are still spaces available. So hurry!
What does the unit need?
According to Spencer, it really requires:
a special sonic scanner: this is a tiny gadget which helps check a patient's veins to see if they're clear enough to accept injections
televisions: Spencer knows that waiting around for up to four hours can get boring
Spencer's battle against kidney failure
The early 1990s: Spencer first starts to notice kidney pains and is later told: you've got pyelonephritis. This is a bacterial infection-caused kidney inflammation
2005: his kidney fails and he begins receiving dialysis treatment and has been receiving it ever since, currently receiving three weekly sessions
2008: Spencer undergoes a kidney transplant
2013: his new kidney also fails after starting to enjoy a normal existence. Spencer notices his energy levels falling once more and the pain coming back
2015: he is currently awaiting a second transplant
What Spencer says
He really wants to stage "something big" in a bid to give something back to the hospital's renal department.
Spencer also wants the motorbike ride to raise awareness of the country's organ donation register to help more donors come forward for potentially life-saving volunteer work.
Want to donate an organ?
Visit www.organdonation.nhs.uk