The Footman James Bristol Classic Car Show
Date: June 22-23, 2019
Time: 9.30am – 4pm (both days)
Location: The Showground, Shepton Mallet BA4 6QN
The Footman James Bristol Classic Car Show is the longest-running event of its kind in the UK with an incredible 40 editions under its belt. A guaranteed fun day out for all the family, this year's show features the incredible Wall of Death, kiddies' rides and entertainment, as well as an incredible collection of classic cars from across the country. Celebrating everything from legendary marques like Jaguar and Rolls-Royce through to nostalgia-fuelled icons like Morgan, Rover and Morris Minor, the show has a classic that everyone will love. 
WHAT TO EXPECT
THE 1933 MONACO GRAND PRIX WINNER
Bristol Classic Car Show sponsors, Footman James, will be bringing along the 1933 Monaco Grand Prix winner, also known as the Bugatti T51 to the show. Driven to victory by Achille Varzi at the 5th running Monaco Grand Prix, the race was described as 'one of the greatest races of this or any other age' in Paul Sheldon's 'A Record of Grand Prix and Voiturette Racing'.
The 1933 Monaco Grand Prix was won dramatically by Varzi's Type 51 in 3 hours 27 minutes and 49.3 seconds; a record average speed of 56.45mph after a race-long duel with Tazio Nuvolari's 8C-2300 Alfa-Romeo, which was in the lead at the start of the last lap. 
Varzi resorted to using 7,500rpm up the hill to casino Square to get past his rival, then Nuvolari's engine failed as he attempted to recover the lead.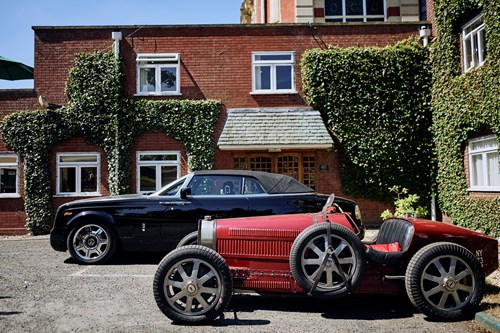 THE CLASSIC CAR PARK
The fun begins as soon as you enter the show as you are greeted by hundreds of vehicles in the show's classic car park. Brought along by enthusiasts at the show, the classic car park will display one of the most eclectic collections of privately-owned classic cars you will see in the country.
All classic cars parked in the classic car park must be 25 years or over to qualify for entry. If you do qualify, your car is automatically entered in to a competition where you can win a variety of awards judged by a panel of experts including Footman James.
Why not take a look at some of the classic cars that were on display at last year's Bristol Classic Car Show?
CLASSIC CAR CLUBS
Loyal classic car clubs will turn out in their masses, bringing their own club displays for visitors to see. The car club displays are usually themed and made by the club's dedicated members.
TRADERS/AUTOJUMBLE              
One of the largest areas at the show will be dedicated to the show's autojumble, where can spend hours looking for bargains and rare finds. Specialist traders will be on hand to offer you parts, tools, memorabilia or services.
If you are looking for classic car insurance or advice on your insurance, why not come along and see our friendly Footman James team at the show?
ADMISSION
Discounted Advance: £10 (adult) if purchased before 8:30am Monday, June 17.
Advance: £13 if purchased before 4pm Friday, June 21.
On the gate: £13 (adult)
On the gate classic car driver entry: £5
 Please note: 15 and under go FREE.
We look forward to seeing you there!