Earls Barton Classic Car & Bike Meet June 2019
Date: June 5, 2019
Time: 16:30 – 21:00
Location: Earls Barton Showground, NN6 0EP
The Classic Car and Bike Meet at Earls Barton is now in its ninth year! Usually held on the first Wednesday of every month from May - September (weather permitting), like-minded enthusiasts regularly meet up for an evening of classic vehicle conversation.
In the UK the weather can always be surprising and uncertain. We, therefore, recommend that you keep an eye out on the Earls Barton website page for updates on weather conditions or cancellations. Or, follow Footman James on Facebook or Twitter to get these updates too.
WHAT TO EXPECT
Spend a few hours of your day with other classic car and classic bike enthusiasts. Admire each other's classics and share stories on your adventures and history with your pride and joy.
CLASSIC VEHICLES
The meet may say classic car and bikes, however, at the meet there will be a variety of vehicles from a range of eras. From classic vehicles to vintage cars, modern classics to supercars, you never know what you will discover.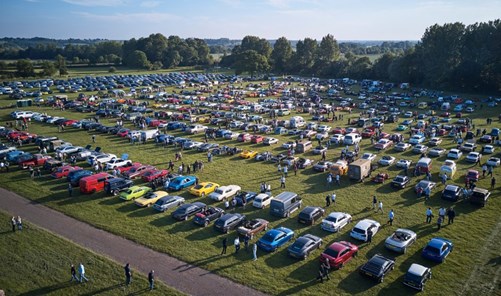 TRADE STANDS & AUTOJUMBLE
Numerous trade stands will be on site, with some familiar faces returning from 2018's meets, including, The Air Ambulance, Alpha Performance Fabrication, Footman James breakdown providers RAC, Brian Crichton Autojumble, Digital Images by Robert Tingey, Evan Autopoint, along with many more. Not only this, the Fire Brigade will be present with safety advice for your vehicle.
FOOD & DRINK
Delicious fresh food will be available alongside hot and cold soft drinks. Tuck into fish and chips, burgers, sausages, wraps, pizza, doughnuts and ice cream. There will be plenty to indulge in if you're feeling peckish.
Please note: Many people also bring their own picnic (including alcohol). The meet welcomes you to do so.
WHAT DO OTHERS SAY?
Don't just take our word for it…
An eclectic mix of cars and bikes, there is a car or bike for everyone. The exhibitors are always happy to talk about their machines. Good food and drink available too. – R. Anderson
Great meet. You never know what's going to show up. Such a great mix of retros, classics, rods, VWs and yanks. Petrol heads of the world unite. Well at least Northamptonshire. – B. Hawkins
Always a fantastic random collection of cars and bikes of all ages. Totally relaxed atmosphere and when the sun shines, I can't think of a better place to chill out. – C. Burbridge
ADMISSION
One of the best things about this meet is that it only costs £3 per vehicle to attend on the day. So, fill up your tank, fill up your car as you will surely be in for a treat.
UPCOMING EARLS BARTON CLASSIC CAR & BIKE MEETS
Classic Car and Bike Meet – July 3, 2019 (16:30 – 21:00)
Classic Car and Bike Meet – August 7, 2019 (16:30 – 21:00)
Classic Car and Bike Meet – September 4, 2019 (16:30 – 21:00)