NOMINATE YOUR CLASSIC COMMUNITY CHAMPION
We want to celebrate the champions in your classic community! From club members you couldn't do without to the friend who always pops by in your hour of need!
We'll choose one person each week to celebrate, with that person receiving a Lego vehicle model of their choice (up to £150) and £150 donation to the charity of their choice.

Week Four Winner: Frank Hambleton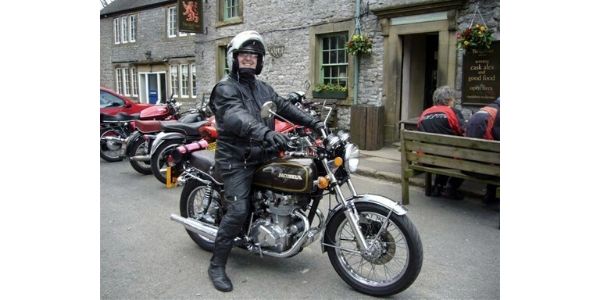 Frank Hambleton was nominated by Stephen Edwards who said in his submission:
"I would like to nominate Frank Hambleton, who runs the Buxton Motorcycle Club. In the short time the club has been set up, he has built the club up to over 300 members, raising thousands for charity and getting people of all ages out on their bikes. He attracts some big names to speak at the monthly meetings and with his fellow committee members always puts on really good meetings and run outs. He is well known in the Buxton community as well. He is an all round good bloke!"
Frank has previously been the Chairman and Secretary of the North Staffs VMCC for many years too, prior to becoming the Chairman of the Buxton Motorbike Club. He has a passion for all bikes, old and new, and he's pictured above riding his 1975 Honda CB500 T. He also owns a 2002 Fireblade, a Royal Enfield GT Continental he uses for club runs and a Yamaha MT09 Street Rally.
Next month Frank and fellow members of the Buxton Motorbike Club were due to organise a club run for their dear friend James Stead, who was sadly killed riding his bike in 2017. The club have so far raised over £2,000 in his in name through two memorial runs in 2018 and 2019, but this year they have had to cancel the run due to the coronavirus outbreak. Frank has asked that we donate his £150 charity donation to the Royal Manchester Children's Hospital, with the club matching this so that £300 in total will be donated in James's memory.

Week Three Winner: John Simpson
John was nominated by his wife Sandra:
"I would like to nominate my husband John Simpson. He's been involved with classic cars for almost 40 years when he purchased a 1966 Sunbeam Alpine for restoration, a car he still has to this day. In 1985 he organised his first classic car show with a local business man and over the next few years, as well as shows, he also organised road runs
In 1990 he placed an advert in a local newspaper asking if anyone was interested in forming a local classic car club, at an initial meeting in a nearby pub about half a dozen like minded enthusiasts turned up and Boston Classic Car Club was formed. Today the Club has over 250 Members with a wide variety of classic vehicles, it has a full colour monthly magazine, a very busy calendar and an Annual Show (this year will be the 29th), also the Club has raised over £35,000 for local charities.
John is very committed to the classic car fraternity, he recently retired from his business of servicing, repairing, restoring classic cars, some people will also know him from his involvement with Practical Classics magazine over the last 13+ years, where he has restored several of the magazine projects as well as writing and photographing classic cars. Although he has retired he still has his own classic cars to maintain and he is the Chairman of the BCCC."
A Lego motoring set and £150 donation to the We'll Meet Again WW2 Homefront Museum at Freiston is on it's way.

WEEK TWO WINNER: Martin Ward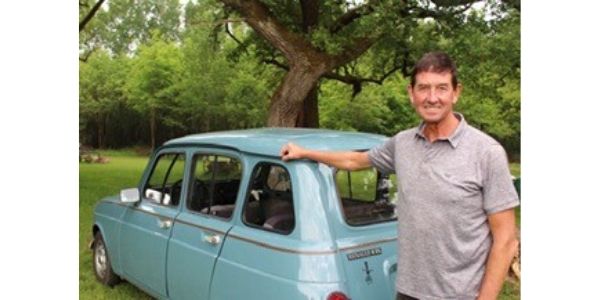 Nominated by Dr Richard McCann, here's why Richard thought Martin deserved to be crowned a Classic Community Champion
"I nominate Martin Ward the indefatigable gentleman who started Olney Classic Car Club and works tirelessly to send out monthly newsletters, arrange super drive outs during the season, meals and guest speakers during the Winter, the active Facebook group, a free book and DVD library, charity events, trips to classic shows... and all of it done so modestly and with such charm that he makes it look easy - but we know that it's not and we know just how much work he puts in just to give us all a great time. He likes to be in the background, he never expects thanks and it's about time he was recognised by FJ for the star that he is!"
Martin has chosen the Newport Pagnell & Olney Lions Club for his £150 donation to charity as they are currently doing some sterling work in the community helping those at threat from the virus.
WEEK ONE WINNER: Adam Gompertz
Nominated by Gregory Kilmurray, a Lego model is on it's way to Adam and £150 donation has been made to his choice of charity, Mission Motorsport.
Here's why he was nominated, in Gregory's words:
"Adam Gompertz, he his a vicar from Shrewsbury who hosts two monthly meets: one in Shrewsbury the other at Enville near Stourbridge. Adam also organises a car show each year in Shrewsbury which is free of charge and any money raised from the event goes to charities. He drives an early Rover P2 I think and has always got time to listen to people and does a lot within the car community including some amazing drawings as he goes along."
Classic Community Champion Terms & Conditions
Entrants must complete the relevant fields in the Classic Community Champion form.
One winner will be selected each week by an independent panel of judges.
Each winner will receive one Lego vehicle model of their choice from https://www.lego.com/en-gb/categories/cars up to value of £150 and £150 donation to the charity of their choice.
Competition begins 1st April at 5pm and continues until further notice.
No alternative prize offered.
Prizes cannot be transferred to another person.
The decision of the Promoter is final and no correspondence will be entered into.
To the fullest extent permitted by law the Promoter excludes all liability for claims, damages and losses incurred in or connected with use of the prize and the Promoter does not accept liability for entries that are not submitted on time or in full.
By entering the draw the winner agrees to the publication of their name and photo by the Promoter for publicity purposes.
This promotion is governed in accordance with the law of England & Wales. By taking part in this promotion you are deemed to have accepted and be bound by these terms.
The promotion is open to UK residents aged 18 or over excluding employees of Towergate Underwriting Group Limited or employees of any other member of the Towergate Underwriting Group Limited group of companies. Promoter: Footman James, Castlegate House, Castlegate Way, Dudley, West Midlands, DY1 4TA.