CBR Classic Restorations
ABOUT CBR
CBR Classic Restorations have been operating within the vehicle repair and restoration market for over 20 years; with their experience now covering most types of classic motor vehicles. Their ethos of quality of work, with extremely high levels of attention to detail, have ensured that their business has grown year on year, leading them to working with famous clientele; being featured on television and appearing on many live restoration shows.
RESTORATION (JOINERY, MACHINERY, FABRICATION, AND WELDING)
CBR Classic Restorations work with all types of vehicle makes and models, from motorcycles to lorries, Fiats to Ferraris; right back to the beginning of automotive transport.
CBR Classic Restorations is more than happy to undertake any classic vehicle repair, from a basic service or a mechanical fault, through to a complete restoration to show standards.
 "I can only be grateful to have known Andy Waters / CBR motors for 15 years and for taking care of my diverse collection of classic cars. Every time I go to CBR motors it excites me to see the varied cars being worked on with passion, commitment, and integrity at different stages and projects being turned back into showstoppers. It also keeps my wife off my back to know I have professional support and back up."  - John Donnelly
MECHANICAL
Need parts that may not be available on the general market? CBR Classic Restorations have fully skilled in-house craftsmen who can turn, mill and cut any material to fabricate any part required for any vehicle of any age.
"It's not just the range of quality work that can be undertaken in-house at CBR that astounds; it's the level of attention to detail that sets them apart." - Matt Tomkins, Projects Editor, Practical Classics Magazine
PREPARATION & PAINTWORK
CBR Classic Restoration's 35 years of experience allow them to achieve the highest level of finish each time. Whether that is for stone chip repairs or bare metal restoration, CBR can help make your vehicle shine to perfection.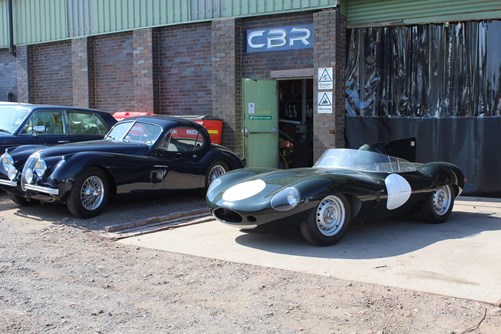 ELECTRICAL
CBR Classic Restorations can help with your classic vehicles electrics, from electrical faults to manufacturing fully bespoke wiring, their craftsmen have the capabilities to both diagnose and repair your vehicles electrics.
"Vicarage LTD are proud to associate and work with CBR Classic Restorations whenever required. The extremely high standards and attention to detail ensure every job they do for us is done correctly and to the standard that we expect." - Malcolm Woodhead, Vicarage Ltd
STORAGE AND TRANSPORTATION
Need help moving your vehicle? CBR Classic Restorations have their own specialist transport service, which includes fully covered transport vehicles and are available to move your pride and joy anywhere within the UK or Europe. They can also offer safe and secure storage with their multi-level storage system within their new custom-built premises.
If you want to find more out about CBR Classic Restorations or are in need of repairs, servicing, fault finding or restoration, please call them on 01543 422 625 or visit their website below.
NEED TO KNOW MORE
If you would like to know more about the work CBR Classic Restorations do, why not head over to their website below, or check out their brand new video blogs where you can watch a series of restoration work taking place by CBR themselves?