Morris Minor Tourer comes to Practical Classics Classic Car and Restoration Show
Footman James' affiliated club partner, Morris Minor Owners Club, has kindly supplied Footman James with the club's secretary, Ray Newell's, 1949 Series MM Morris Minor Tourer.
Well known across the club, Ray's Tourer is almost like a celebrity amongst Morris Minor enthusiasts and will be taking pride place at this year's Practical Classics Classic Car and Restoration Show over on the Footman James stand (4-425).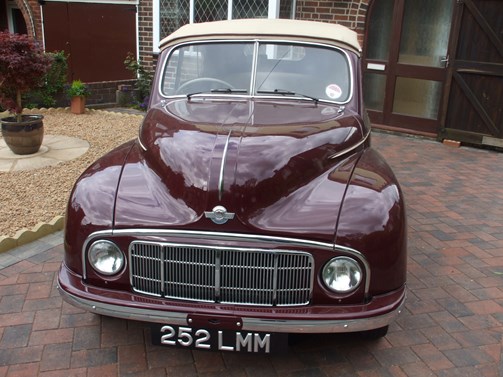 The Series MM open topped Tourer was painstakingly restored over 25 years ago and was finished in a beautiful Maroon coating. Despite the Morris Minor being almost 70 years old, the meticulous attention to detail meant that is has sustained its appeal and is still an attractive example of the first series of Morris Minor, which made a huge impact when the model was launched at the 1948 Earls Court Motor Show in London.
The original vehicles were powered by a 918cc side valve engine which allowed for a modest top speed of 62mph. This particular Morris Minor has the advantage of having a period modification fitted many years ago, which allowed for increased acceleration between gears and welcomed an additional 10 mph in top. The side valve to overhead conversion was supplied back in the 1950's by Alta Engineering Ltd; a rare item seen these days, but it does make the classic car more useable in modern traffic.
The only concessions from the original specification are safety related. The addition of seat belts, front and rear flashing indicators (to complement flashing semaphore indicators) have proved worthwhile concessions in the interests of safer motoring.
For information on seat belt laws and whether classics need seat belts, please click here.
Footman James has a close relationship with the Morris Minor Owners Club and have an exclusive club insurance scheme administered by Footman James. Ray has always insured his classic car with Footman James due to their specialist rates that they offer the club. Not only this, Footman James also offer multi-vehicle insurance, where Ray makes the most of his policy by also insuring his 1968 Singer Chamois Coupe and his 2008 Chrysler Crossfire Roadster with Footman James too.
David Bond, Managing Director at Footman James commented 'We were glad that our friends at the Morris Minor Owner Club were interested in supplying a classic car for the Practical Classics Restoration Show. Footman James has a strong relationship with the club and are always proud to work with enthusiasts that are helping to keep our industry alive.'
Are you a part of a classic vehicle club? Why not see if your club is a Footman James affiliated club member that has access to FJ's specialist club rates too? By doing so, you could also be eligible for discounted rates on your classic car insurance.