Footman James team up with FloodFlash for Flood Awareness
Footman James and rapid-payout insurance company FloodFlash have teamed up to raise awareness about commercial flood risk. We discuss four facts that the risk of flooding poses in the UK, and what you can do about them. 


1: Commercial property is at higher risk compared to all UK properties 
According to research conducted by FloodFlash, 26% of commercial property are at risk of flooding compared to 14% of all property. That difference might not make sense at first, but consider where commercial properties are normally located. 
Historical access to waterways has meant a lot of commercial properties are built near water sources. Add to this that flat, low-lying land is used for large warehouses and sports grounds and you can understand why the risk is higher. 


2: 26% of commercial properties in the UK have some level of risk 
26% of properties are within a 1,000-year zone or lower, for risk of flooding. The long time period shouldn't lead to complacency though. Over a 20-year occupancy of a property the chance of having a flood is approximately 1 in 50. 
18% of commercial properties have a significant risk defined as being in a 75-year flood zone. In other words, these properties are likely to flood at least once every 75 years. Over 25 years the chance of a flood is approximately 1 in 3.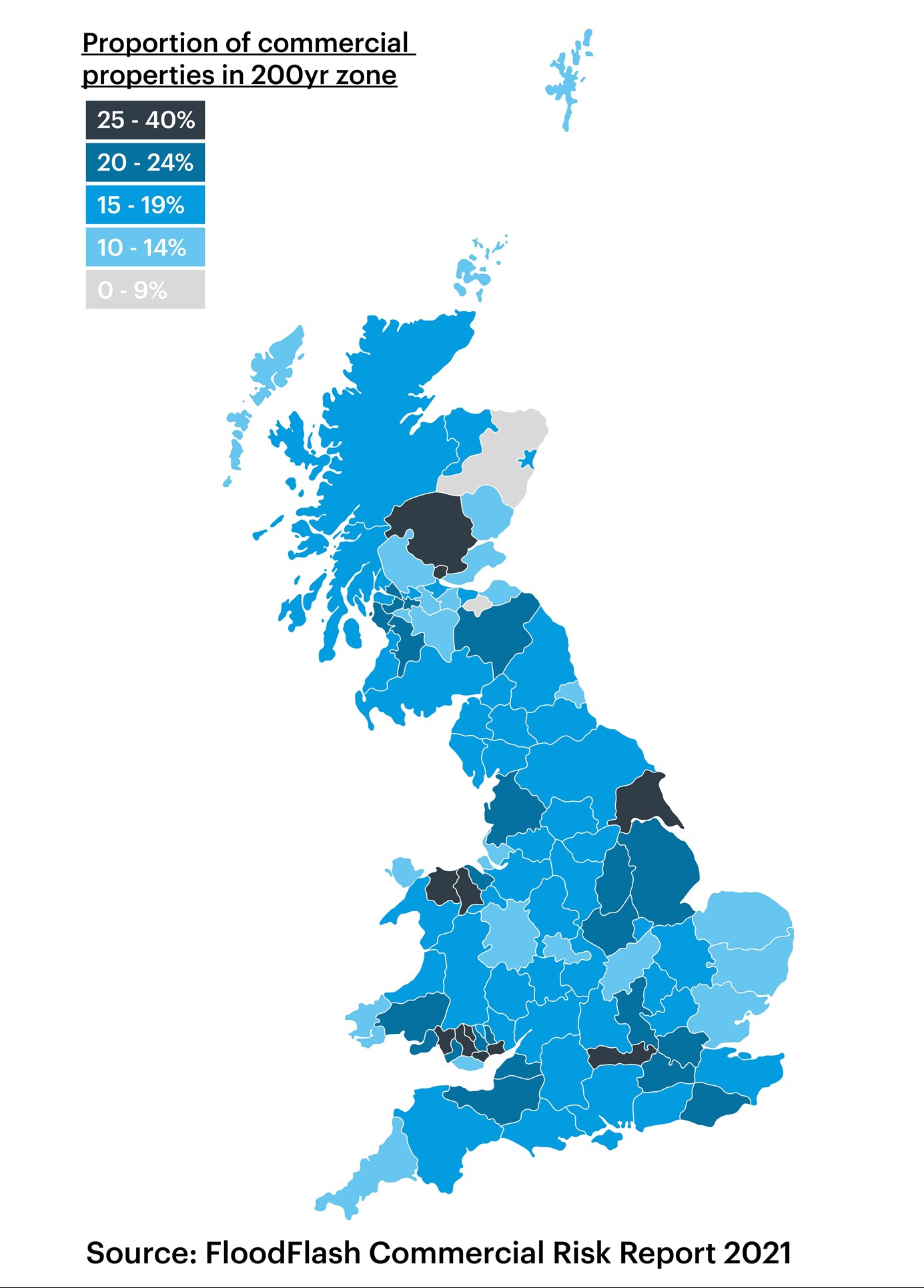 3: Surface water flooding is the biggest threat to property 
249,956 British commercial properties are at risk from surface water flooding. This type of flooding is driven by the collection of intense, localised rainfall and may occur in areas which are remote from any rivers or other sources of water. Surface water is as big a risk for flooding as any, just because you can't see the source of water it doesn't mean a property is not at risk. 


4: Young business decision makers are more worried about flooding than their older counterparts 
49% of those surveyed under the age of 35 worry about flooding as a threat to their business continuity. Compare this to just 28% for 35-45 year olds, 26% of those between 45-54, and 9% of those over the age of 55.  
Last month Storm Christoph brought rain, snow and widespread flooding showing the importance of having adequate cover. FloodFlash paid Storm Christoph claims as fast as 9 hours and 44 minutes after the floods, providing a vital lifeline to the businesses that claimed. 
For more information about FloodFlash, you can call us on 0333 207 6120, speak to your Account Handler directly or you can request a call back here and we will be in touch. FJ can help you take the next steps towards being prepared for a flood; FloodFlash cover can be added to your commercial motor trade policy at renewal and mid-term.
See more about FloodFlash here: https://www.footmanjames.co.uk/floodflash
All statistics provided have been provided by the FloodFlash Commercial Risk Report 2021.