Footman James crowns #FJShowUsYourShed winner
We are proud to announce Lee Sunderland and his family as the outright winner in our Show Us Your Shed competition to find the best garage or workspace where enthusiasts can indulge in their automotive passions.
With a stunning space inspired by Hot Wheels, Lee's family entry wowed the judges with its simple yet creative approach to a special motoring space. Conceived and then executed during the first lockdown in March last year, Lee and his 12-year-old son, Stanley, picked up their paint brushes to create a homage to the family's collection of over 2500 die cast toy cars. The unique garage also provides a home for the family's restored 1970 Mk III Austin Mini 850.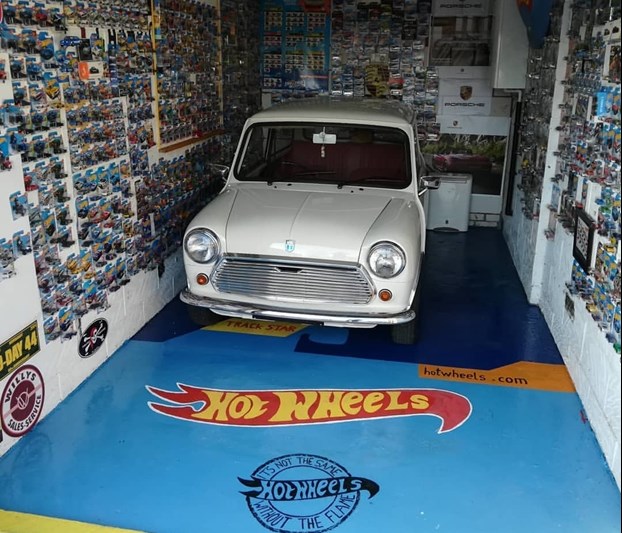 Launched in March, the Footman James social media competition called on motoring nuts, engineering fans and garagistas to share their places of solitude – the spaces where they felt free to tinker, learn a new skill, or simply chill out. From the tiny to the tremendous and the clinical to the chaotic, sheds of all denomination were submitted for consideration.
Talking of his victory, Lee said: "It's fantastic news, and I'm a little lost for words. Much of the credit must go to Stanley as it was his idea, with me helping on the planning and buying the paint. The materials cost just over £20, and it goes to show you don't need a big wallet to make something special."
In addition to receiving the inaugural custom made 'Shed Head 2021' trophy, Lee and his family will receive a unique piece of artwork featuring their Austin Mini, commissioned from respected automotive artist Stefan Marjoram.
The volume of high-quality entries required the judges to whittle sheds down to the best 50 before the task of finding the top three could begin in earnest. Rather than work on the basis of which were the largest, or how much has been spent, they looked for the passion and the personality behind each.
Ultimately the judges, which included Footman James ambassador and motoring authority Harry Metcalfe, selected Sunderland's garage as the outright champions thanks to its: 'Creativity, execution and down-to-earth approach'.
Open to everyone, not just Footman James clients, Show Us Your Shed submissions were made via the Footman James website and entrants could share their entry on Twitter, Instagram and Facebook, using #FJShowUsYourShed.
David Bond, Managing Director of Footman James said, "We had such a diverse range of entries, from spare rooms through to industrial units, but Lee's garage perfectly captured the essence of what we were looking for. Sheds can be so much more than just a place to store tools – and as a family project produced under lockdown, it was impossible to beat. Sheds are places where you should be able to let your imagination run wild as you enjoy your hobby, yet they don't have to be big or expensive."
In addition to the winner's entry, the judges wanted their runner-up to receive an honourable mention.
Jonathan Gilbert Candy's car and motorbike themed entry impressed the judges with its honest approach to enjoying a collection of vehicles. The result of 35 years of gradual work, Jonathan's unassuming double garage is home to a diverse selection of machines as well as automotive memorabilia.
Lee's full story will be in the next digital issue of Footman James' FJ Times magazine. This will be available in the coming weeks on the FJ website.