Through the eye of Oli: The nine year old photographer
"I started taking photographs in late September 2018 when I got hold of my dad's Nikon D90 SLR whilst we were at a Motorsport event. I enjoy taking photos and capturing moments. I love being able to show the drivers the photos of them and their cars after the events!"
…says 9-year-old Oliver Fessey, also known as 'Through the eye of Oli' on social media, who, ever since taking photos on his dad's camera, which he said, "felt good but was a bit heavy", has become a photographer that you should be keeping an eye on if you're a lover of classic vehicles.
Oli's family are all petrolheads and follow the British & Midland Hillclimb Championship ever year. Over the years, Oli has been able to build good relationships within the Hillclimb community and also helps to look after an Empire Wraith, a single seater car made to compete at Hillclimb events, for Clive Austin during the season, when he isn't taking photos of the vehicles competing.
Talking about his experience so far, Oli said, "I feel lucky to have such great parents to support me, also great photographer friends (Stuart Wing) that have taken me under their wing giving me great advice and treating me like an adult. All the Hill Climb competitors give me such great experiences, opportunities and encouragement."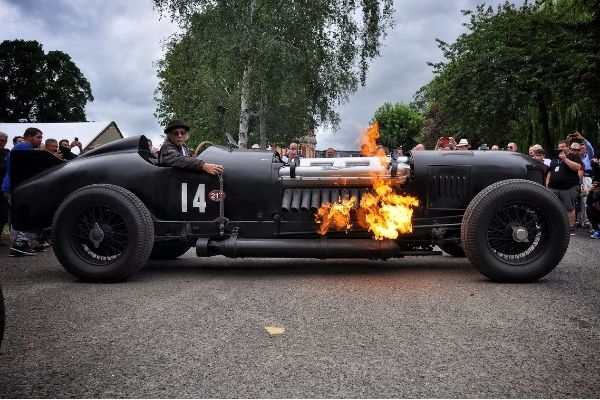 You won't just find Oli at Hill Climb events, through the year he visits several race meetings and motorsport events and even paid a visit to our first Coffee & Chrome meet of 2022, at the Impney Estate back in February.
Oli now uses his own cameras for his photography work, a Nikon D5500 being his main camera, as well as three lenses and since his dad set up his social media pages in 2019 to showcase his son's photos, he has gained a very respectable following.
You won't just find Oli's work on his social media though. He has had photos published on the front cover of the Midlands Automobile Club News and the front cover of the events calendar for Shelsley Walsh, as well as national magazines like Octane and Classic & Sports Car, the list goes on. He's also been granted media access to events like Supercar Fest, Jaguar E-Type's 60th anniversary and Chateau Impney Hillclimbs well as Rolling for Cancer and Shelsley Walsh to name a few.
With a wealth of experience already, Oli has plans to visit as many motoring events as possible with a hope that in the future he can turn his enthusiasm into a career, "My dream is to race cars and take photographs professionally, own a Ferrari F40 and maybe live in America!"
Oli comes to our Coffee & Chrome meets when he can so be sure to say hi if you see him! You can also follow Oli on his Instagram page. 
 All images for this blog are taken by Through the eye of Oli.