Sammy Miller Motorcycle Museum
The Man & His Museum
Sammy Miller is a motorcycling legend, an 11 times British Champion, a winner of over 1400 events and is still winning competitions more than 50 years after his first victory!
The museum is now home to some of the finest collections of fully restored classic motorcycles in the world, including factory racers and exotic prototypes, with the collection constantly evolving as new bikes are acquired.
As a living museum, almost every motorcycle is in full running order, with Sammy regularly demonstrating some of his favourites at UK race circuits, in Europe and event days at the museum.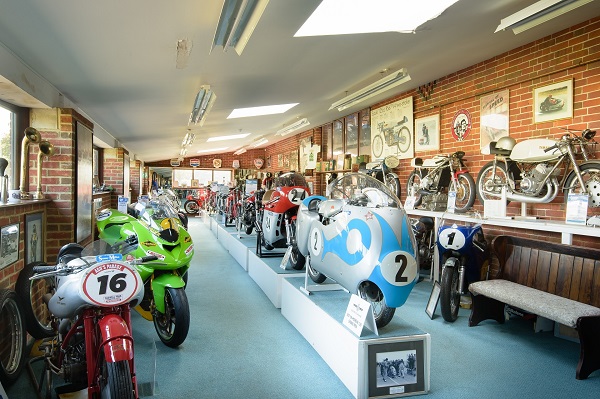 In 2014 Sammy wanted to enhance the museum to allow him to display even more classic motorcycles and memorabilia. Completed in January 2015 and officially opened in March 2015 by John Surtees OBE and Murray Walker OBE, the two-story glass-fronted extension has certainly given the Museum Complex the entrance it deserves!
Not only this, the museum isn't just home to a collection of classic motorcycles, but also to some of the museum's friendly animals, including Alpacas, donkeys, sheep, goats, rabbits, chickens and birds- including two American Turkeys called Salt and Pepper.
On-site there is the Bashley Manor Tea Rooms that serve home-made cakes, breakfasts, light lunches, courtyard cream teas, vegetarian selections and children's portions available (private functions and coaches welcome).
Children can keep occupied over at the children's play area, whilst others can wander around the selection of craft shops, including; Simply 'B', Dragonswood and Dormouse Valley.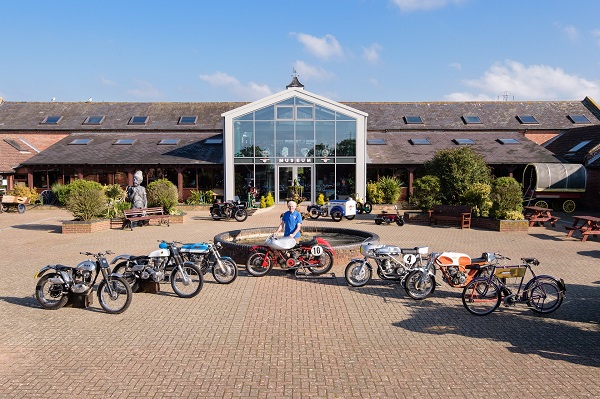 About Sammy Miller
Over many decades Sammy was at the forefront of all types of two-wheel sport, either road racing, trials, motocross, grass track and sand racing. Not content with these skills, Sammy Miller later becomes top class restorer or vintage and racing bikes.
After finally hanging up his leathers and Belstaff suit, Sammy Miller set out on yet another mammoth challenge. This was to literally build and stock what is now recognised as the finest museum of racing and sporting motorcycles. In addition to finding the machines, they have been superbly restored under the watchful eye of this master craftsman.
In November 2014 Sammy was presented with the Federation Internationale de Motocyclisme (FIM) Legend Award and in October 2016 Sammy was awarded Motor Cycle News's David Taylor Lifetime Achievement Award for the second time.
To find out more about the museum or to purchase tickets, visit Sammy Miller's website below.